---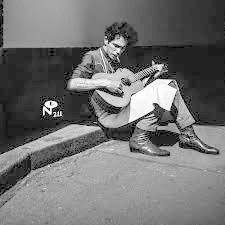 Discovering this Israeli artist yesterday was both amazing and bad; its not everyday you come across such a musical anomaly, but Charlie Megira was just that and no sooner had I discovered his existence did I then discover his tragic passing.  It's not known, or at least has never been disclosed what happened to this young musician in 2016 when he was found dead in his Berlin apartment on November 9th, but at just 44 Gabi Abudarham (a.k.a Charlie Megira) was far too young to be leaving this world.
Many described Charlie Megira as a musical genius and for this 50's-style rocker who also worked as a cook in Tel Aviv (and later in Berlin), music was something he unabashedly stayed true to no matter what.  This never faltered throughout his career and for everyone who already knows him (and for those yet to discover him) we will all no doubt love him for staying true to himself.
I've scanned the web for more information but, just like his music, Charlie Megira remains dreamy and elusive…there just isn't that much out there about him! What I have found, however, is an interview and below I've copied and pasted a couple of answers he's given to questions put to him…I think this exposes more about his mischievous and endearing character than anything else I've found (find the whole interview/article here)….
Bay Bridged: You're originally from Israel, has growing up there had any influence on yourself as an artist?
Charlie Megira: I was born and raised in the Bet She'an Valley near the Jordan river. The water there is sweet. As a kid we used to collect wild dogs and paint them with black stripes and run into town. I saw a crow spit on a cat.
Bay Bridged: For those that have never been acquainted with your work before, how would you describe your sound?
Charlie Megira: Poor
Today's song played round and round in my head for hours and hours yesterday, I love it so much!  So here its is, Smile Now, Cry Later……kind of apt really!
Listen above and watch a live version I've found of Charlie and his band performing it below.