---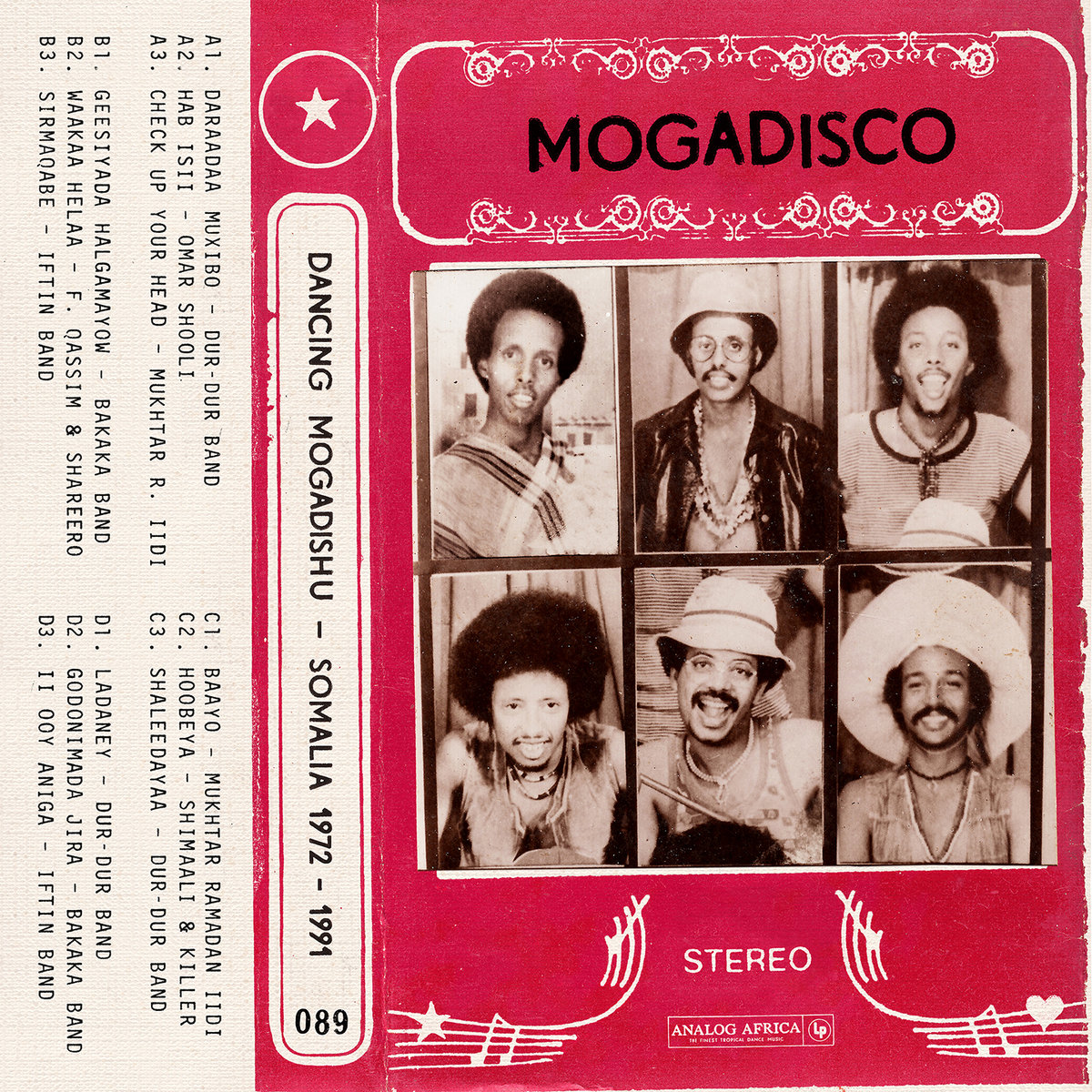 This tune is literally music to my ears! It makes me all melty inside, transmitting those tingles that you sometimes get when a melody or a beat, or whatever it is strikes a magic part in your soul! It's a little delight and I'm very happy to be sharing this today! We have Analog Africa to thank for unearthing this rare gem and, indeed, the super-rare sounds of Somalia's capital, Mogadishu!!
I'm not quite sure when Sirmaqabe (No Secrets) was first recorded and Mogadishu's Iftin Band continues to remain something of a mystery, but I can you that this 7-piece consisted of: Sheq Abdi (Guitar), Salah Bonge  (Percussion/Drums), Salah Hariri (Percussion), Yasin Jey (Lead Vocal), Sharif Shankar Mohamed (Bass),  Abdullahi Sugule (Keyboard) and Abdullahi Sulfa (Drums).
In 1977 the Iftin Band were invited to perform at the Festac festival in Lagos where they represented Somalia at the Second World Black and African Festival of Arts and Culture. Not only did they come back with an award but they also returned with Afrobeat. While Fela Kuti's 'Shakara' had taken over the continent and was spreading like wildfire throughout Latin America, it was the track Lady that would become the hit in Mogadishu.
To celebrate their discovery into this new sound, Analog Africa released an album in 2019 entitled, Mogadisco – Dancing Mogadishu (Somalia 1972​-​1991). I'm working my way through its 12 delights as I type and thought I'd copy and paste the accompanying album notes from Analog Africa below so that you can read about the birth of the 'Mogadishu sound'.
Check that out below, listen above and if you fancy checking out/purchasing the rest of the record, you can find that here.
After being blown away by a few tunes – probably just as you will be after listening to this – Samy Ben Redjeb travelled to the infamous capital city of Somalia in November of 2016, making Analog Africa the first music label to set foot in Mogadishu.

On his arrival in Somalia Samy began rifling through piles of cassettes and listening to reel-to-reel tapes in the dusty archives of Radio Mogadishu, looking for music that "swam against the current".

The stars were aligned: an uncovered and unmarked pile of discarded recordings was discovered in a cluttered corner of the building. Colonel Abshir – the senior employee and protector of Radio Mogadishu's archives – clarified that the pile consisted mostly of music nobody had manage to identify, or music he described as being "mainly instrumental and strange music". At the words "strange music" Samy was hooked, the return flight to Tunisia was cancelled.

The pile turned out to be a cornucopia of different sounds: radio jingles, background music, interludes for radio programmes, television shows and theatre plays. There were also a good number of disco tunes, some had been stripped of their lyrics, the interesting parts had been recorded multiple times then cut, taped together and spliced into a long groovy instrumental loop. Over the next three weeks, often in watermelon, grapefruit juice and shisha-fuelled night-time sessions behind the fortified walls of Radio Mogadishu, Samy and the archive staff put together "Mogadisco: Dancing Mogadishu, 1974–1991".

Like everywhere in Africa during the 1970s, both men and women sported huge afros, bell-bottom trousers and platform shoes. James Brown, Stevie Wonder, Marvin Gaye and The Temptations' funk were the talk of the town.

At the same time 1977 Bob Marley was busy kick-starting reggae-mania in Somalia, which became such a phenomenon that even the police and military bands began playing it. Some say that it was adopted so quickly because of the strong similarities with the traditional beat from the western region of Somalia, called Dhaanto.

But then suddenly the trousers got tighter as the disco tsunami hit the country. Michael Jackson appeared with a new sound that would revolutionise Somalia's live music scene. You couldn't walk the streets of Mogadishu without seeing kids trying to moonwalk.

"Somalia had several nightclubs and although most use DJs to play records, some hotels like Jubba, Al-Uruba and Al Jazeera showcased live bands such as Iftin and Shareero" – so ran a quote from a 1981 article about the explosion of Mogadishu's live music scene. The venues mentioned in that article were the luxury hotels that had been built to cover the growing demands of the tourist industry. The state-of-the-art hotel Al-Uruba, with its oriental ornaments and white plastered walls, was a wonder of modern architecture. All of Mogadishu's top bands performed there at some point or another, and many of the songs presented in this compilation were created in such venues.

Mogadisco was not Analog Africa's easiest project. Tracking down the musicians – often in exile in the diaspora – to interview them and gather anecdotes of golden-era Mogadishu has been an undertaking that took three years. Tales of Dur-Dur Band's kidnapping, movie soundtracks recorded in the basements of hotels, musicians getting electrocuted on stage, others jumping from one band to another under dramatic circumstances, and soul singers competing against each other, are all stories included in the massive booklet that accompanies the compilation – adorned with no less then 50 pictures from the '70s and '80s.

As Colonel Abshir Hashi Ali, chief don at the Radio Mogadishu archive – someone who once wrestled a bomber wielding an unpinned hand-grenade to the floor – put it: "I have dedicated my life to this place. I'm doing this so it can get to the next generation; so that the culture, the heritage and the songs of Somalia don't disappear."