---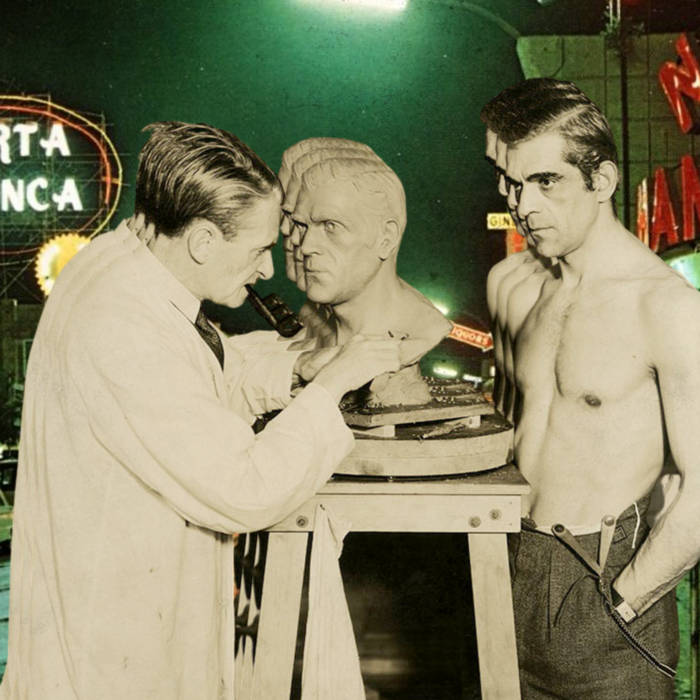 One of the many reasons I wanted to set my blog up many moons ago was to document my ever-evolving musical findings – that and to provide a platform (albeit modest) to promote new and upcoming bands. Today I am delighted and excited to be featuring a crazy bunch from Norwich – who now reside in Leeds.
With an ear for anything experimental and a soft spot for those who are not afraid to explore the fringes of the bizarre and unusual, my radar kicked in when I heard a curious track called Karloff the other day. You could tell straight away that this was something different and I love more than anything discovering new bands in their relative infancy. Unsigned, unpolished, but alive with shining potential and not at the mercy of overproduction and compromise. These early sounds are not watered-down, but bubbling with possibility! Please don't get me wrong as I may sound a bit cynical here, but there have been many bands that I have followed from the early days, only to find when they are signed that they have strayed away from their raw beginnings…and this, after all, is what gave them their original edge.
Anyway, without further ado, I would like to present Gladboy who, by their own admission, are a band consisting of "Junkadelic misfits"! Gladboy started out as a loud, energetic and assured 3-piece who, in less than a year, cemented their place as one of the underground's most unique bands – garnering support slots with The Orielles, The Regrettes, Jeffrey Lewis, Brix & The Extricated, Willie J Healey, Starcrawler, Perspex, Peaness, Bull, Bridgid Dawson and Fling.
Starting out in Norwich, the band quickly became one of the city's most treasured live acts, before the band decided to rip it up and start again, by migrating to their new home, Leeds. Gladboy's
blisteringly camp and theatrical performances are best described by a review from Outline Magazine:
'This is art-pop – think Bowie, early Talking Heads or Pulp – that veers into psych and dreampop
but always has a roughness and bite that gives it an edge.'
Their intriguing concoctions of experimental rock, dream pop, post punk and psychedelic pop were first unleashed in 2018 with the release of their debut single, Weight of Expectation . Issued via their very own micro-label, Trip-sit Records, they have since put out few EP and single releases (which I have included a link to below).
Karloff, their latest single, was released at the end of May and is a track inspired by the eclectic sounds of ESG, Dr Alimantado, Portishead, EXEK and Serge Gainsbourg!!! In fact, when fortunate enough to speak with one band member, I was also told that Blurt's Trees was a "massive influence on the middle section"!!
The whole song pivots around a darkly quirky and slightly looming-yet-delicious feel and definitely treats you with the unexpected. The dynamics of the track are also worth praising as drums are shifting but not overpowering and I love their quiet, intricate detail. Vocals are clear and forever entertaining, especially when they quiver the words Cos I'm so scared of a-Boris Karloff/And I'm so scared of Boris Karloff… (find all the lyrics at the bottom of this post). It's touches like this that that really do it for me and aside from all of these grand points, the groove and bass are also quite striking. You just know this band are full of ideas and not the kind you hear everyday!! I love it!!
Speaking of the track, lead singer, George Orton, explained how:
"I wanted this track to be a sort of reverie about life before the
public smoking ban – something which I'm too young to have ever
seen for myself. I enjoyed the idea that people would smoke
anywhere and everywhere they can. It's a totally unrealistic view of
that world though – it's a track propelled by its own naivety; full
of stupid, cartoonish images about dogs smoking and people
eating cigarettes for pudding. The actor, Boris Karloff, became the
antagonist of this straight-edge anthem. He briefly haunted my
childhood dreams, so I felt he'd be the perfect totem for this world
I had the misfortune of creating."
Karloff is out now and, together with lots of other goodies to explore on their label, can be found on their Bandcamp page here. Gladboy are a band I can recommend delving into and with luck, a band you can catch live sometime!! Watch this space!!
You
You never thought I always knew
The mood for you
You never thought I always knew
~ dark streets ~
Smoke in this building
I'm smokin' at work
There's smoke in the basement
Got smokes for dessert
I smoke with the dog with a hole in my hand
And a room outside just like a government man
The room outside the Tupelo
The room outside
Nowhere to go
Stuck in the kitchen with a hole in my hand
And a hole in my heart like a government man
That's the terrible sound
I saw the picture in a movie
I saw the picture in a movie
~ dark streets ~
I smoke in the kitchen
I'm smokin' at work
I got smoke on the kids
I'm smoking in church
The room outside
Nowhere to go
The Tupelo skies
They're all covered in smoke
I'm stuck in the kitchen with a hole in my hand
And a hole in my heart like a government man
The room outside the Tupelo
Room outside
Cos I'm so scared of a-Boris Karloff
And I'm so scared of Boris Karloff
And I'm so scared…
To be cruel by you
You never thought I always knew
What you've heard is true
You never thought I always knew
I smoke in the basement
I'm smokin' at work
I smoke on the kids
Baby I'm smokin' in church
The room outside the Tupelo
The Tupelo skies
Nowhere to go
I'm stuck in the kitchen with a hole in my hand
And a room outside just like a government man
I smoke with the dog with a hole in my hand and no room in my heart
Cos I'm so scared of a-Boris Karloff
And I'm so scared of Boris Karloff
And I'm so scared…
I smoke in the kitchen
I'm smokin' at work
Smoke in the desert
I smoke with dessert
Dixie cafes with a hole in my hand
The room outside like a government-
The room outside the Tupelo
The Tupelo skies
Nowhere to go
Stuck in the kitchen with a hole in my hand and a hole in my heart
like a government man