---
If I had to define 'cool' by a sound, I think I could pretty much encapsulate the essence of this word with just about any song by L'Exotighost!! Working my way through their latest release (and second full-length offering), I am rather besotted by their instrumental delights!!
L'Exotighost are a Spanish instrumental group that emerged sometime in 2018. Armed with their very own abundant supply of originality, their music is greatly inspired by the old sounds of Exotica and steered by the new sounds of electronic processing! Their mission is to revive the original feel of Exotica using devices from the present. Utilising the mysterious sounds of the theremin, marimbas, bass ukelele, vibraphone and various other percussive instruments, their electronic mixes marries the old with the new.
Earlier this year the band released their second album, Kamongo, which was named a fish lungfish that lives in the river Congo. According to the information on their Bandcamp page, Kamongo is a Swahili word for the lungfish that lives in the river Congo. The write-up also goes on to explain all about the inspiration this word evokes, detailing how:
"When the river dries it is able to survive a long period of time in the mud, using its lungs instead of its gills until rain season, when it becomes once again, a fish. This prodigy of nature is a symbol anyone who plays music can relate to, even more so if their genre is Exotica. The history of Exotica is a bumpy one through the decades, sometimes flowing smooth, sometimes stalling buried under the mud until almost disappearing, but with endless capacity to mutate sonically and to reach new people. Kamongo is a word with which instrumental, original artists identify themselves more than ever, in this era of extreme survival. Its an African word but it appears in a film that takes place in the Amazon jungle – the habit of switching concepts from one continent to the other being very related to exotica- Jack Arnold's "Creature From The Black Lagoon", in which kamongo is a living fossil, the humanoid creature that lives in the black lagoon. This film contains all characteristics of exotica: mystery, remote landscapes and a risky swapping of cultures. Kamongo's spirit is present throughout the whole album…."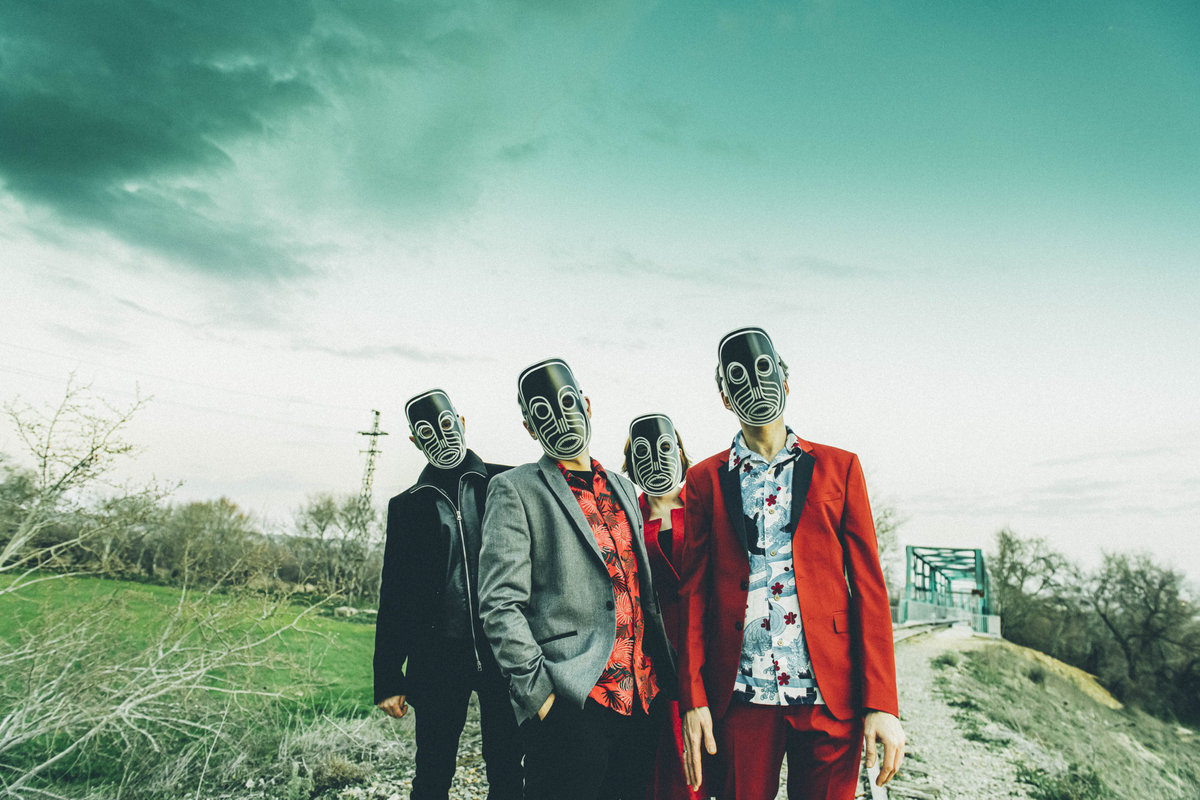 I really love this analogy and how it captures the spirit of what this enigmatic band are about. Durable and versatile, unusual and adaptable..not forgetting that they are all all-masked affair, so nobody knows their identity! Their new approach to the concept of Exotica encapsulates all of these qualities and I really appreciate what they are all about.
Without giving too much away (I've got a great song of theirs to use for Halloween), this band have also perfected the art of covers, with some interesting renditions of their own scattered about both of their albums. Take Quiet Gnossienne for example (hear this below), its of my favourite pieces of classical music, but on this record its played out in an Exotica-style, which is totally random and brilliant all at once!!
Title track Kamongo offers intriguing hints of vocal flourishes which, coupled with those sinuous melodies and entrancing rhythms, makes for a completely charming listen!! As does the whole record, really! It's just a trip into that something different!..and the artwork alone would sell this to me!!
Check out Kamongo above and if you fancy listening/purchasing more of this lovely ear confection, you can do that here.