---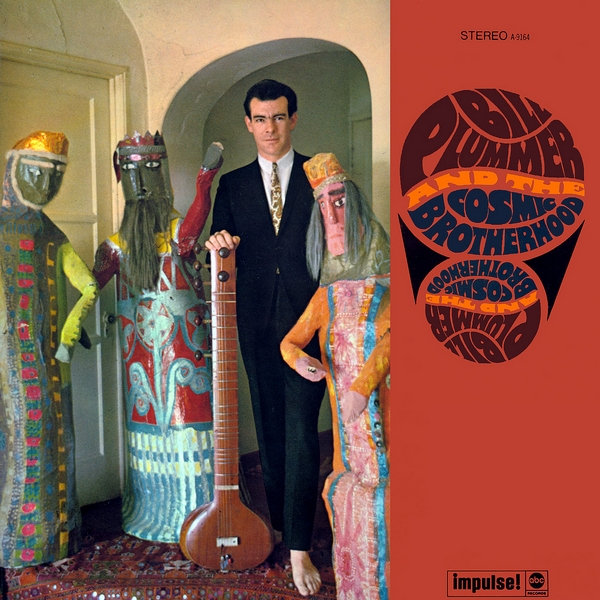 I never like to rush my blog posts and make them too brief, but sometimes needs must…Tonight I'm on a tight schedule, but had to share this little delight as its been spinning round my orbit ever since I heard it earlier today! 
Long thought to be lost to only the most industrious of crate diggers, Bill Plummer's 1968 album Bill Plummer & the Cosmic Brotherhood made its triumphant nearly four years ago. Reissued for the first time, this record was released on gloriously obscure Captain High Records in 2017. 
Already an accomplished jazz bassist at the time of the album's release, Bill Plummer turned heads on the Cosmic Brotherhood with heavy Eastern and psychedelic influences that challenged contemporary ideas about jazz. Original compositions like today's Journey to the East and the epic ten minute trip that is Arc 294 are coloured by striking sitar sounds, rhythmic chanting and melodic improvisation.  In songs such as The Byrds ('Lady Friend') and Burt Bacharach ('The Look of Love, Plummer lends his distinctive touch to songs by adapting his own style into these covers. The result is an album that reflects a musician at the peak of his creative powers, unafraid to explore new ideas and sounds that meld into a cohesive, spectacular album.
Now I'll not profess to liking all of the other tracks on this record, the sitar was somewhat overused and commercialised in the 1960's as far as I'm concerned; to the point where it put me off some of music that utilised its sound, but when applied to songs such as Journey to the East, it adds a freshness and demonstrates innovation…This I can appreciate! I also really like the delivery of the spoken dialogue, the jazz fusions and the way these independent elements are woven into this mysterious incantation. Listen above and (if you fancy it) check out the lyrics below…

I went far far across the sea past soundless desert sub-realities
A gentle breeze was flowing through so soft and subtly
I stopped to take the late sunshine before the warm light ceased
I would not rest for some time on my journey to the East

Peace is what I have come searching for
Spiritual comfort, thoughts far from those of war

And then I went on with my pilgrimage to find the home of light
I travelled on for quite a while until late in the night
It seemed that I moved time and space like seams in some fine plaid
And all beings seemed to welcome me as I went on my way
I saw things that were far removed from what I thought was true
And then I knew I'd come upon the soul's home and its youth

Peace is what I have come searching for
Spiritual comfort, thoughts far from those of war

I woke up in a daze from deep within and then my vision ceased
That is the way I came upon my journey to the East