---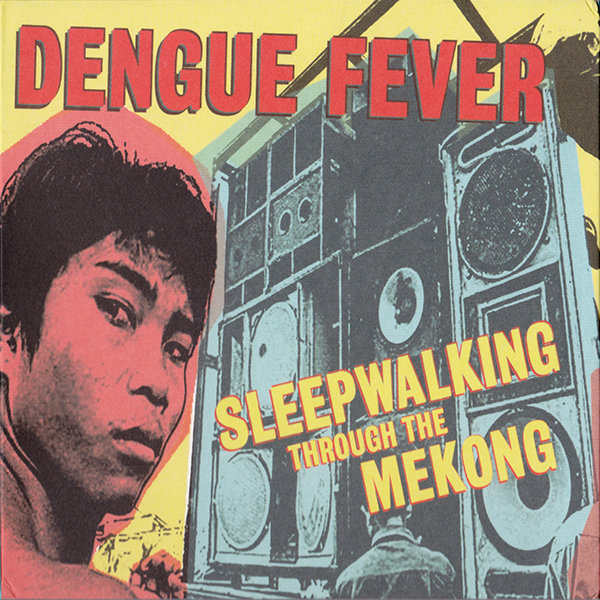 As a piece of music on its own, today's song is a curious offering of the cosmic kind! Group it together in the album it comes from and a story unfolds, for this makes up part of a soundtrack, specially compiled to accompany a documentary/film. Made in 2009,  Sleepwalking Through the Mekong is part career overview and part documentary of the sounds and styles which originally prompted the L.A.-based group, Dengue Fever, into existence.
Forming in 2001, this six-piece outfit have become known for their multi-genre music syntheses, fusing anything from Khmer-Rock to modern Indie Rock.  Their very popular 1960's Cambodian fuzz-pop recreations are heavily influenced by the musical sounds of the 60's/70's, psych rock and many other world music styles!
Sleepwalking Through the Mekong boasts some really diverse sounds and when I first heard this album, I didn't want to skip or fast forward, I was just so intrigued to see how this played out!  Opening/title track, Sleepwalking Through the Mekong is utterly spellbinding, Seeing Hands (Sleepwalking Version) is a deeply heady instrumental and their fantastic live cover of Mulatu Astatke's Yègellé Tezeta is just great!! The whole record is just out there, floating around it its very own eclectic bubble of psych-fuelled uniqueness!  This collection pairs up with an enjoyable documentary featuring the group's first tour of Cambodia itself, homeland of its powerful lead singer Chhom Nimol, but on its own the soundtrack is the perfect accessory for all those fancying a trip into the extraordinary…..and what better place to start than with today's curious jaunt, March of the Balloon Animals.  Listen above and check out the rest of the album from here.